Pelican Line of Products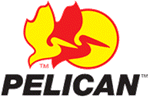 U.S. Case Corporation has partnered with Pelican Products, Inc. as a Stocking Dealer of their fine products for over Ten Years!
U.S. Case carries a full stock of Pelican's Complete Line of Plastic Cases in house at all times. U.S. Case also carries a limited stock of Pelican Coolers, Back Packs and Lighting Products. For your convenience you can stop on by our Showroom and take a look at any of our Products for test fitting or just to browse!

Pelican Products, Inc. is the global leader in design and manufacture of both high-performance pre-fabricated plastic case solutions and advanced portable lighting systems. Their products are used by professionals in the most demanding markets including firefighting, law enforcement, defense/military, aerospace, entertainment, industrial and consumer.
Pelican products are designed, built and warrantied to last a lifetime.
---